Donating hair supports our Grant A Wig grant program and changes the lives of aussie kids with alopecia.
Update March 2022: AAAF's Hair Donation Program is still active and still accepting donations. In fact, we need your support more than ever.
Our volunteers are closely monitoring all guidelines around COVID-19 and have safety systems in place. If you are not experiencing symptoms of COVID-19, it is safe to donate hair. We strongly encourage all donors to maintain good hygiene practices when preparing their hair for donation, and as always, it's very important that the hair donations are clean and completely dry when cut.
AAAF is entirely funded by community donations. Without our usual fundraising events, AAAF needs your help to run our life-changing programs. If you can, consider running an online fundraiser to raise much-needed funds to help us support kids and families through this difficult time.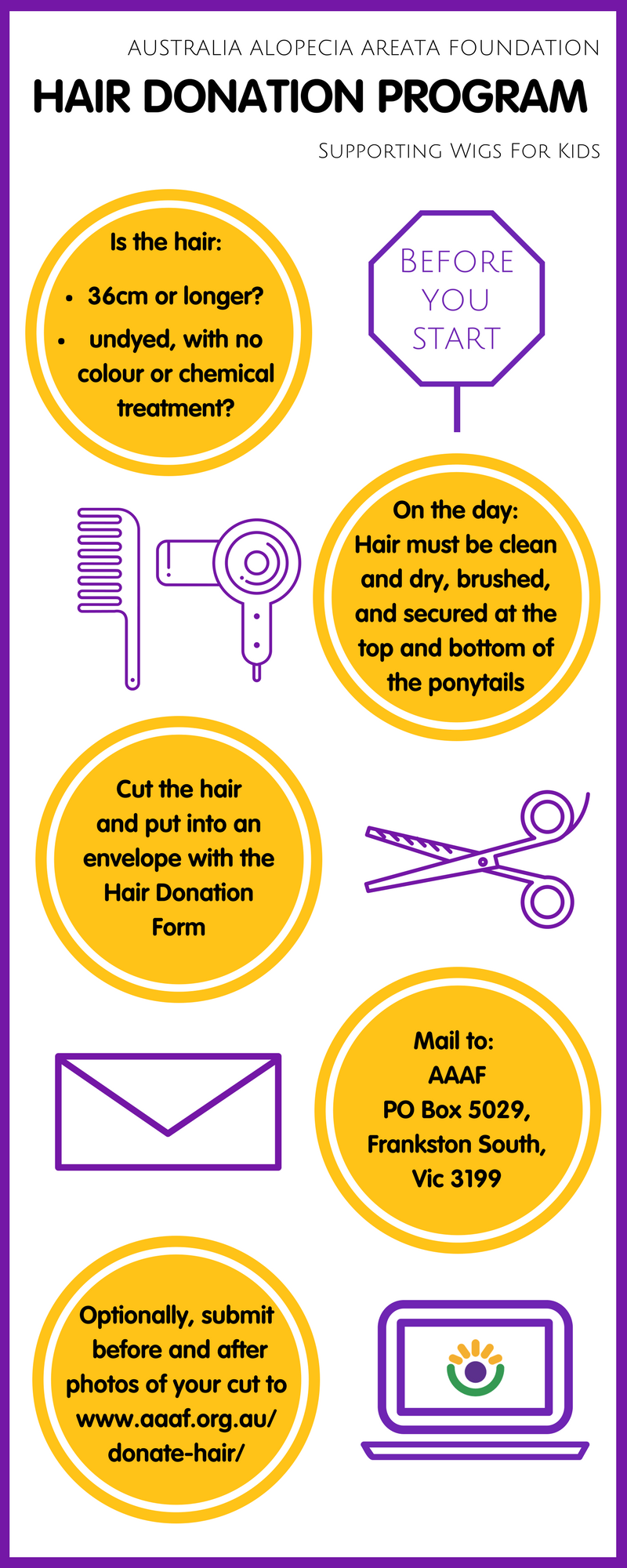 Donating your hair to be made into a wig for someone who cannot grow hair of their own is a generous gift and rewarding experience. It's very important to us that not a single gift is wasted, so please be sure to follow these simple steps to ensure your hair meets our requirements. All hair donated to AAAF is sent wig makers who specialise in making hair pieces for medical purposes. We receive funds from the wig makers and these go to support our Grant A Wig program, which provides financial grants to help families with the costs of wigs. So your hair donation helps kids with Alopecia Areata twice!
Before You Start: Requirements
In order to donate your locks to be made into Wigs for Kids, your hair must be:
36cm in length or longer.
Free from permanent or semi-permanent hair dye.
Secured firmly at the top and bottom of the pony tail or braid.
Clean and dry when cut.
Until recently AAAF accepted hair down to 30cm in length. However, recent changes with our wig makers mean that we are now asking for longer lengths of 36cm or above. This is to ensure that all the hair we receive is long enough to use and that all generous donations go to someone who needs them.
Step One: Fundraise (Optional)
Get family and friends to support your hair donation by donating funds to help AAAF to continue our life changing work. Click here for information about setting up a fundraiser in support of the Hair Donation Program.
Your donors may be able to receive matched donations from their workplace. Be sure to encourage them to check the "Give via Workplace Giving" button on your fundraiser page to find out.
Step Two: Fill in the Form
Click here to download the Hair Donation Form.
Print, fill in your details, and be sure to include when you post the hair donation to us to receive a Thank You Certificate.
Step Three: Cut and Send
The exciting part! You're ready to cut your hair! If you like, you can print a copy of our Hair Donation Flyer to take with you to the hair salon. It has instructions for cutting the locks.
Pop it into an envelope addressed as below:
AAAF
PO Box 5029,
Frankston South,
Vic 3199
Step Four: Submit Before and After Photos (Optional)
If you took before and after photos, submit them using the form above or email them to info@aaaf.org.au to be featured in our hair donation gallery and on our Facebook page. Include your instagram username to be featured there.
Important:
As we receive hundreds of ponytails a month, we will only respond to those that complete the hair donation form. We recommend using a postage with tracking so that you can see when it has been safely delivered to us.
How to Cut Ponytails for Hair Donation
Hair Donation Frequently Asked Questions
My hair is shorter than 36cm – Can I still donate?
We can accept hair which is slightly shorter than 36cm, but if it is possible for you to wait for your hair to grow a little longer, or get your locks cut into a shorter style so that your donation is closer to this length, we strongly encourage it. Our wig makers need hair to be as long as possible to make the best wigs they can.
During the wig making a process, a portion of the hair length is lost on both ends, from tying the hair into the wig base, and then from cutting the hair to style it. As such, donations need to be quite a bit longer than the wigs they will eventually become. As so many of the people living with Alopecia Areata who are in need of wigs are women and girls, there is a significant demand for wigs of longer lengths. Wig makers can struggle to find the long hair needed to make these wigs, and they become more expensive and take longer to be made. By making sure your hair donation is as long as possible, you're helping to improve access to life changing hair pieces for people living with long term medical hair loss.
How do I measure the length of my hair?
Pull the hair into ponytails with the top tie just below where you intend to cut. Gentle pull the ponytail until the length is straight and use a ruler or measuring tape to measure the length. Most of the hair should reach the 36cm minimum length.
Curly hair can absolutely be donated. Just gently pull the curls out straight to measure the overall length of the hair.
Why is it so important for the hair to be dry when cut and packaged for posting?
During postage and transport, your hair will be in packaging for several days, possibly even a week or two. If the hair is wet, it can become mouldy and will not be able to be used. Clean, dry hair is always best.
I've had a semi-permanent dye – can I still donate my hair?
Unfortunately, we can't accept hair that has had any kind of dye until it has completely grown out. The chemicals in the dye mean the hair fibers break during the wig making process. This is also the case with chemically straightened or curled hair.
Where can I have my hair cut in my town?
Any hair dresser should be able to cut your hair to be donated, so feel free to go to your usual salon or barber. If you like, you can print our flyer with instructions for the best way to cut the hair to take with you.
Can grey hair be donated?
Yes. Alopecia Areata can be a lifelong condition, and we have many individuals looking for wigs which look as natural as possible for them. We can accept hair ranging from a few grey strands, to salt and pepper, to completely grey or white.
My hair is naturally curly – should I straighten it before I cat my donation?
Leaving your hair in its natural state is best, as this makes it easier for our wig makers to work with.
Can I donate my hair to be made into a wig for someone I know?
It takes about 15 ponytails to make one wig. When wanting to donate hair for a specific individual, this needs to be done directly with the wig maker, which is not a process AAAF can facilitate.
Can I see a photo of the wig my hair is made into?
It takes many ponytails to make one wig and your hair might go into 1 or multiple wigs. Once AAAF delivers the hair, the usability of the hair is controlled by the wig maker. We do share photos and stories from our wonderful Wigs for Kids recipients.